Earl Javorsky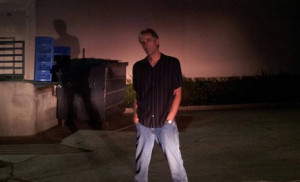 In Down to No Good, the sequel to Down Solo, PI Charlie Miner, freshly revived from his own murder, gets a call from Homicide Detective Dave Putnam. Self-styled "psychic to the stars" Tamara Gale has given crucial information about three murders, and the brass thinks it makes the Department look bad. Dave wants Charlie to help figure out the angle, since he has first-hand experience with the inexplicable. Trouble is, Charlie, just weeks after his full-death experience, once again has severe cognitive problems and may get them both killed.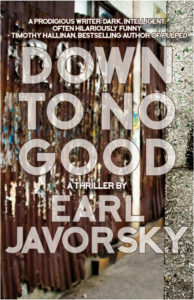 "Earl Javorsky's Down to No Good is wildly original, wildly energetic, wildly funny – it's just straight up wild, and I mean that in the best possible way." Lou Berney, Edgar Award-winning author of The Long and Faraway Gone
"The book is killer. I like this one even better in the first. Terrific work. Down to No Good begins with the central character dead and then brings him back to life to face a very bad day. That's Earl Javorsky's world: mind-boggling, dark, hilarious, and unforgettable." Tim Hallinan, author of the Poke Rafferty series.
Down to No Good is a deep dive into the weird and wild that had me staying up far later than normal. A whacked-out thrill ride filled with psychics and cops and a drug-loving PI who just can't stay dead. What's not to love? —Brett Battles, USA Today bestselling author
"Haunting and original, Down to No Good takes you down a dark road and then leads you to the light. It's Elmore Leonard meets the supernatural in a superb tale of redemption, retribution, and recovery. Javorsky is a writer to watch."—Anthony Franze, author of The Outsider
"Original and seductive reading. Earl Javorsky doesn't do re-treads. This is a unique voice with traction." James Ziskin, Anthony Award for Best Paperback Original and the Macavity Award for Best Historical Novel  
"Earl Javorsky continues to offer up well-written and smartly told novels.  His characters are believable.  The combination of great writing, high energy, and off-the-wall plot twists made me jump at the chance to review his work again. It's always great to find a good storyteller." Jay Philippi, Reviewer
---
About Down Solo
Charlie Miner wakes up looking down at his body on a gurney at the LA County morgue. When he moves closer to the body, it pulls him in and he is able to make it get up and walk around. Charlie, a down-on-his-luck, heroin-addicted insurance fraud investigator, leaves the morgue with two priorities: to get a fix and to find out who killed him. The trouble is, there's a bullet in his brain and his memory is full of holes. His quest will take him backward to rediscovered memories and forward to new danger, further loss, and, finally, possible redemption. Down Solo borrows from Stephen King only to the extent that, generally, people don't reanimate their bodies and continue daily life. Otherwise, the novel is more or less a straightforward (well, slightly convoluted) Chandleresque mystery.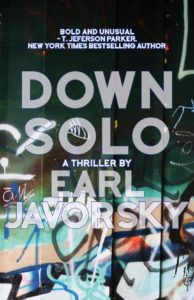 "Earl Javorsky's bold and unusual Down Solo blends the mysterious and the supernatural boldly and successfully. The novel is strong and haunting, a wonderful debut." T. Jefferson Parker, New York Times bestselling author of Full Measure and The Famous and the Dead
"Offbeat and dark and wonderful. This book caught me in the first few pages and never let me go. Javorsky is a prodigious writer: dark, intelligent, often hilariously funny, and he holds the accelerator to the floor throughout the whole amazing story." Timothy Hallinan, bestselling author of the Poke Rafferty series and the Junior Bender series
"Another awesome mystery. Check it out." James Frey, author of Bright Shiny Morning
 "Don't miss Earl Javorsky's Down Solo. Kick-ass excellent writing. This guy is the real  deal" Dan Fante, author  of Point Doom
---
And definitely check out Trust Me 
Jeff Fenner's life is out of control. At the nadir of a rocky, sometimes-up-usually-down career, he has come face to face with his demons: he's being investigated by the police, he owes money to the wrong people,  and he sees an empty future shutting down in front of him. When Jeff hears that his sister Marilyn has jumped from a twelfth-floor balcony, he refuses to believe she killed herself, and he embarks on a tortuous journey toward self-discovery and redemption . . . and toward the beautiful but troubled Holly Barnes. Holly's own demons have led her to a self-help cult in  Beverly Hills called Saving Our Lives. Through Holly, Jeff learns of a string of apparent suicides eerily similar to his sister's—and that Holly is the next target.